Remember in the cinematic masterpiece 'Major League' how the Indians' new owner privately wanted her team to lose so she could trigger a low-attendance clause that would let her move the franchise?
And remember how she pushed for trades that would sabotage the summer?
And how the manager and players eventually found out?
Oh, yeah, behold celluloid history ...
https://www.youtube.com/watch?v=XDZ_lSJjgvk
Which, naturally, has nothing to do with the very real Pittsburgh Baseball Club of 2016.
Nope, not a solitary thing.
There is zero parallel between any fictional comedy and the scene unfolding this summer at PNC Park.
"No, really, there isn't," Andrew McCutchen was telling me Friday afternoon. "I mean, if they were going to pull the plug on us, that would have meant the offense. What they traded was two pitchers. They traded a guy who plays every fifth day and another guy who plays every two or three days."
That, obviously, was a reference to the brazen salary dump of Francisco Liriano to the Blue Jays -- my portrayal, not Cutch's -- as well as the dealing of free-agent-to-be Mark Melancon to the Nationals for another reliever, Felipe Rivero.
"This team is about the offense," Cutch continued. "That's the way it's been the whole year. If that's still here, we're still good. Believe me, we're still good."
Here's more of our chat, if you're curious:
https://vimeo.com/179510936
Cutch is correct on all fronts, of course, but especially about the Pirates being built on their offense and, above all, about being "still good."
Even on this steamy night that sent 32,357 home with long, sweaty faces, this after a late two-run lead lapsed into one whale of a lousy 6-5 loss to the Marlins, "we played a pretty good baseball game out there," as Gerrit Cole would put it.
I'm hardly some pollyanna when it comes to the Pirates, but I'm inclined to agree:
• Cole wasn't at his crispest, conceding a dozen hits over 6 2/3 innings, but he also appeared to channel some of that heated emotion into holding Miami to three runs.
Aware that he'll always answer even the touchiest questions, I asked Cole if maybe this whole pitch-to-contact approach that they're all discussing isn't going too far:
https://vimeo.com/179538077
Roll your eyes at the response, if you will, but that sentiment was universal: The Marlins, even without Giancarlo Stanton, can flat-out hit.
Witness Christian Yelich's cut on this oppo laser in the seventh:
Not sure how many homers by a lefty have traveled that fast to that part of this park.
"He's done that to me before, too," Cole said. "That's great hitting there."
Regardless, the two home runs were the first he'd allowed since late May, a span of 55 innings that was the longest in Major League Baseball. The 24 hits over the past two starts, including the dud in Los Angeles, are troublesome, but the Pirates' starting pitching has been second-best in the majors over the past two months. So we're mostly talking about outliers.
• The offense did what it's been doing since opening day, clawing and clawing to compensate for the front office having hibernated through the winter when it came to filling out a real rotation. The Pirates overtook the Marlins once in the fourth on David Freese's two-run shot into the center-field seats ...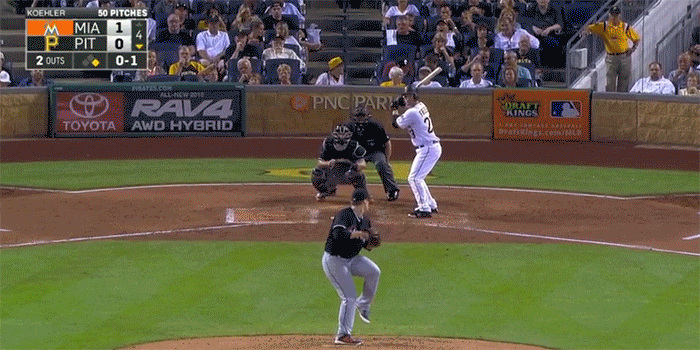 ... and again with a three-run rally in the seventh for a 5-3 lead that should have sealed the deal.
As Cutch was saying, the offense has been there all along. And it kept hammering even in the bottom of the ninth after that lead had been blown. The Pirates had runners at second and third with one out until the Marlins intentionally walked Starling Marte -- a no-brainer for Don Mattingly needing a double play or a force at home -- to get to Cutch, who ... oh, you saw it: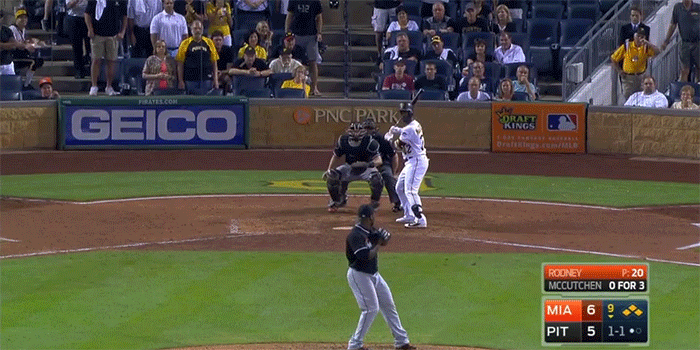 He visibly took it hard afterward, motionless at his stall.
At the same time, he's coming off a .391, two-homer, seven-RBI West Coast trip in which, as Gregory Polanco was telling me earlier, "He carried us over there." So again, we're looking at an outlier.
• The same can probably be said of the bullpen that was most culpable.
I'd never laid eyes on Felipe Rivero in my life -- they don't televise a whole lot of baseball in Brazil -- so the first impression was a rotten one from this perspective. He gave up the two tying runs in the seventh on a crazy-loud blast by Miguel Rojas ...
... and another run on more hard-hit fare.
At the same time, upon reviewing what Rivero had done while I was in Rio, the guy hadn't been charged with an earned run in his first nine appearances with the Pirates and had struck out 16. So I'm guessing he didn't look like this beforehand.
He also seemed to handle the adversity well:
https://vimeo.com/179539272
Tony Watson, the closer who told me the coaching staff made him unavailable because he'd pitched three days in a row in San Francisco, was effusive in his praise of Rivero to date.
"This guy ... he's got it all," Watson said. "You'll see."
Neftali Feliz gave up the winning run in the ninth on what he termed "some pitches I got up," but he, too, has been fine for the most part.
So yeah, they're "still good."
In fact, they've been Major League Baseball's very best team the past two months:
[caption id="attachment_99198" align="aligncenter" width="700"]
Graphic/photo: DALI KOVACEVIC, MATT SUNDAY / DKPS[/caption]
But rather than reviewing the disgraceful plug-pulling by Neal Huntington, Frank Coonelly and Bob Nutting -- all three of whom had to partake in a decision as large as lessening a roster that's currently in contention -- the time seems so much better suited to applaud those doing their jobs with more passion, more belief, more commitment than ever.
And no, not commitment toward 2017 or 2027 or when the Jetsons become season-ticket holders.
Right. Bleeping. Now.
[caption id="" align="aligncenter" width="700"]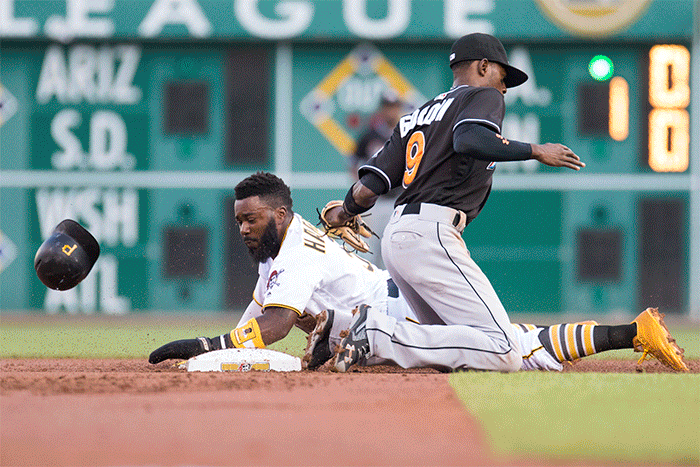 Shots from the Pirates' loss to the Marlins at PNC Park on Friday. - MATT SUNDAY / DKPS[/caption]
The credit for this fire, first and foremost, goes to Clint Hurdle, who by all accounts gave an emotional speech in Atlanta on the day of the Liriano dump and implored his players to keep pushing forward, to not become divided, to not point fingers at those responsible for the trades.
The clubhouse I experienced before leaving for Rio was tight as a drum. Some were down or doubting. Others seemed to be whistling in the dark.
The clubhouse Friday was ... wow.
"I know, right?" Hurdle acknowledged before the game when I brought that up. "I'm around them every day, so it's felt more gradual from my perspective, but we've absolutely got some guys in very good places now."
Collectively, too. I spoke with several players before and after this game, and not one would come close to touching the 'Major League' comparable, even in a peripheral sense.
"We're a good team right now. So good," Polanco said with a playful smile. "It's everybody. We believe."
I'm there. I believe.
Heck, maybe they're making belated believers of their own bosses, too.
MORE PIRATES
• BOXSCORE • STATISTICS • STANDINGS
Friday Insider: Closers special breed
Matt's Stats: Constructing a lineup
Below Deck: Broadway Q&A
DK Sports Radio: Benz on Pirates

To continue reading log into your account below or SUBSCRIBE HEREfor $0.99/month: