Sidney Crosby got a point. So did his Penguins.
All wasn't lost on Tuesday at PPG Paints Arena, but Crosby fell two points shy of reaching 1,000 for his career and the Penguins, despite a spirited comeback in the third period, fell to the ordinary Flames, 3-2, in a shootout.
Chris Kunitz and Jake Guentzel scored in the third to help the Penguins rally from a 2-0 deficit. Phil Kessel, Crosby and Kris Letang failed to score in the shootout.
Matt Murray took the loss in the shootout and wasn't happy about it:
The first period was among the most nondescript periods of the season for the Penguins. Almost literally nothing happened at either end of the ice.
Calgary took command in the second period, scoring twice with Crosby's line on the ice. In fact, Crosby was responsible for the game's first goal, as he committed a bad turnover to Micheal Ferland, who did the rest: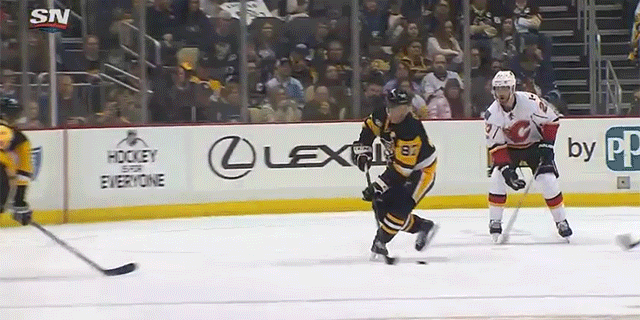 The Penguins were then victim to a pretty goal by Michael Frolik, a free agent target of Jim Rutherford's two summers ago: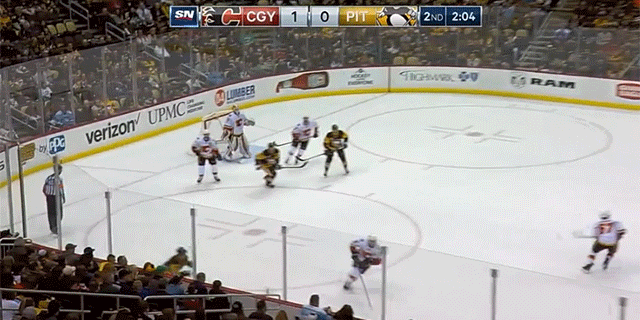 However, the Penguins roared back in the third period, as they've done so many times this season.
Crosby set up Chris Kunitz to give the Penguins life: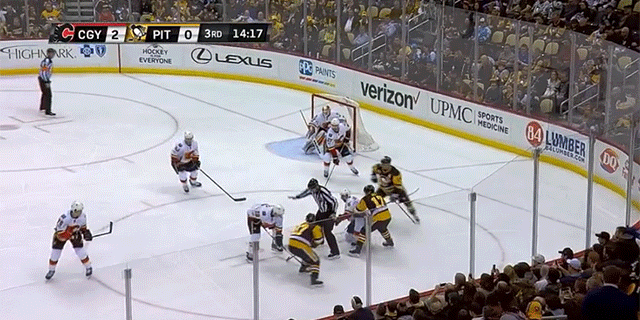 Then rookie Jake Guentzel buried an Ian Cole feed to even the contest. But goalie Chad Johnson was simply outstanding all night for the Flames, and he slammed the door.
JOSH'S THREE THOUGHTS
1. It was a rough night for the captain.
Everyone had their eyes on Crosby at PPG Paints Arena, as he was three points from reaching 1,000 points for his career. It will have to wait.
Crosby did receive the primary assist on Kunitz's goal in the third period. And oh, did he have his chances.
He raised his arms to the heavens following a wrist shot from the slot, assuming it was in the goal. But it caromed off the inside in the post.
In the second period, he was robbed.
Crosby didn't play with his customary speed but was unusually physical, knocking three Flames to the ice on the night.
The Crosby/Kunitz connection is seemingly alive and well.
"Anybody playing with Sid is going to have chemistry with him," Kunitz said. "He's running real hot this season. He's going to give you pucks in good areas. But we still have to be better. We gave up two when we were out there tonight."
Crosby coughed up the puck on Calgary's first goal.
2. The Penguins had some seriously mixed views about this one.
The Penguins weren't exactly no shows in this game and, in fact, were really good in the third period in overtime. However, there was a relative indifference to their game during the first 40 minutes.
Usually players are on the same page after games. Not this time.
Consider this assessment for Crosby:
"I thought we did some good things," he said. "Obviously we made some mistakes. I turned the puck over in the second there. We gave them their opportunities. But we had more than enough chances to win the game. I think we deserve credit tonight, to be honest with you. We put ourselves in a good position to win."
Crosby did hit a post in the first period. He was robbed in the second period. Without question, he had his chances.
Were posts a big deal in this game?
"Multiple," he said. "We had some really good looks, open nets. Their goalie made a couple of big saves. That's going to happen sometimes."
Indeed, the captain wasn't upset with this one.
We did a lot of good things," he said. "We had more than our fair chances to win the game. It's too bad when you feel like you deserve better."
Now, consider Cole's thoughts on the game. In particular, I asked if the Penguins simply didn't have their legs in a horribly dull opening two periods. This has been a theme in recent losses.
"I think the easy answer would be to say 'yes,' Cole said. "I think we need to figure out ways to have legs every game. We have to figure out solutions to combat that. Yeah, it's a long, hard season. But it is for everybody. We're one of the fastest teams in the league. We didn't play like it. We have to figure out why and correct it."
3. Cole, penalty killers sacrifice bodies in big, big way.
What a penalty kill from the Penguins in overtime. With Trevor Daley in the box, the Penguins were forced to kill a two-minute, 4 on 3 power play.
Cole, who was terrific all game, led the way. He told me he blocked four shots during that power play, two with each arm. He had the bruises after the game to prove it.
He killed almost the entire penalty with Nick Bonino and Tom Kuhnhackl. All three threw their bodies at shots as though it were a playoff game.
"I thought those three guys were terrific," Sullivan said. "Matt included. That's a huge kill for us, gives us a chance to score in the last minute and to get to a shootout. Those guys did a terrific job. It takes a lot of courage. When you're down that many bodies, you tend to have to block a lot of shots because you can't be aggressive. It's an acquired skill. Those guys are good at it. They have good awareness, good sticks and they're brave. They're willing to block shots and to discourage shooting lanes. I thought they did a great job."
Cole takes great pride in killing penalties in those situations and refused to leave the ice during the kill.
"Coler's done it all year," Kunitz said. "It's always appreciated in this locker room."
THE INJURY REPORT
• Evgeni Malkin skated with the Penguins during their morning skate and hasn't been ruled out for playing in Colorado on Thursday.
• Carl Hagelin is skating on his own but hasn't been cleared to play because of a concussion.
• Conor Sheary remains out with an upper body injury.
• Brian Dumoulin was hurt blocking a shot in the first period but did return.
THE OTHER SIDE
Give the Flames some credit. They are a funny team — there's a little bit of size, a little bit of skill — but they played hard.
Their head coach didn't particularly want to give his team too much credit, though. Only his goaltender truly impressed him.
"I thought we were outplayed," Glen Gulutzan said. "The difference in the game was our goaltender. Johnny was unbelievable. He got us two points. As a coach, I have a ways to go for some things I'd like to sharpen up for our group."
NUMBERS OF NOTE
6 — Kris Letang led all the Penguins with six shots on goal and he was very, very good.
3 — Johnny Gaudreau tried to beat Murray to the short side on three different occasions during this game. The goaltender was having none of it.
0 — Neither Phil Kessel nor Patric Hornqvist registered a shot on goal. Odd.
UP NEXT
The Penguins head west for a game on Thursday in Denver and on Saturday in Arizona. A massive amount of Penguins fans are expected in both cities.
MORE PENGUINS
BOXSCORE  •  STANDINGS  •  SCHEDULE
Kovacevic: Guentzel shows he'll stick
Yohe: Outdoor game sellout?
Yohe: Kunitz promotes LGBTQ
Gajtka: My favorite Lange-isms
Morning Java: DK, Yohe on shootouts
Wilkes-Barre Watch: Blueger complete
DK Sports Radio: Benz on Penguins