Sports mixed with comic books?
What could go wrong?
I've been a fan of cartoonist Rob Ullman's work for a long time, and it's partly because of the above equation, partly because the guy's among the best in the business. So I couldn't possibly be more of a geeky fanboy today in welcoming him to our little world as a regular contributor.
He'll draw two features a month for us. One of them a sketchbook of Pittsburgh sports figures or concepts or images, the other a three-chapter look back at memorable moments in our city's sports history.
Here's a quick visual sampling of the latter type of work: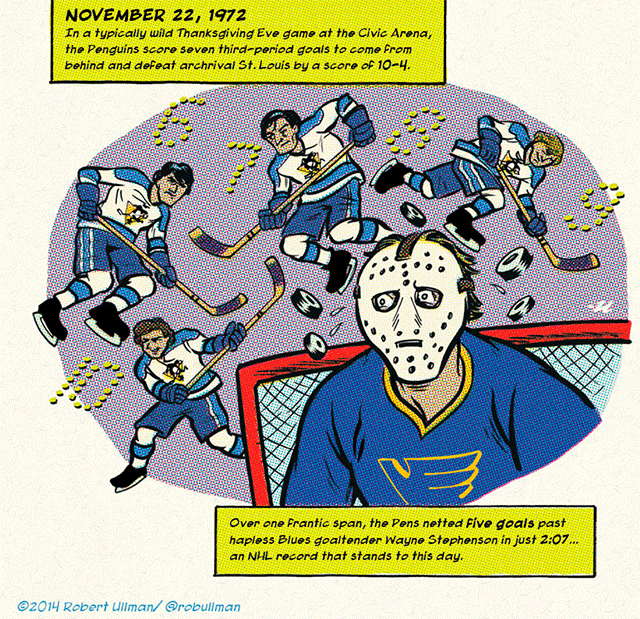 Ullman, a native of northeast Ohio, has been a Pittsburgh sports fan almost as long as he's been drawing comics. He's worked as a freelance illustrator, cartoonist and storyboard artist for more than 20 years, with clients including The Hockey News, The Stranger, The Washington City Paper, BoingBoing, HarperCollins, The U.S. Army and The American Red Cross. His comics include Grand Gestures, Traffic and Weather, Atom-Bomb Bikini and the ongoing Old-Timey Hockey Tales, which celebrates the history of the sport.
I've owned the latter for years, and it's just beautiful. Visit his site to see more.
Really, really excited to see what Rob sends our way, beginning with the first installment of the history entries next week.
THE DAILY FUN THING
So, where will we put Rob's stuff?
That's exciting, too: The imaginatively titled Daily Fun Thing, set to launch Monday, will run every weekday, prominently near the top of the site. And it'll rotate through a ton of regular features, including but not limited to the following:
DiCello Day: Noted local photographer Dave DiCello, one of our originals here at the site, returns to offer a sampling of his finest shots of the Pittsburgh panorama
Benstonium Day: Our viral-video creative partners, of course, will be in the mix
Behind The Scenes Day: One of our staffers takes you to places few get to see inside our sports scene
Player Frivolity Day: One of our staffers interviews a local athlete, but only with ridiculous questions
DK Sports Radio Day: Tim Benz gathers a bunch of us and moderates a single-topic debate
Grass Roots Day: Our staff photographer, Matt Sunday, uncovers a community sports scene and tells the story as only he can
Nerd Day: Our resident nerds, headed, naturally, by our multimedia director Chris Orban, gather to talk uniforms, logos, bobbleheads and other nerdy fare
Celebrity Day: Our editor, Ron Ledgard, will reach out to a Pittsburgh-connected celebrity to talk sports
Travelogue Day: Our staff gets around, and we'll take you along to one of the many special places we see
Social Media Day: Our Taylor Haase will collect the top tweets of the month from the local scene
Downtown Day: There's no place like the Golden Triangle. This one's my baby. Shades of the old Things I Love About Pittsburgh feature, only with a narrower focus to what's right down here along the rivers
Journalism Day: One of our staffers will walk you through a day or situation on their beat
Live Day: Just like it sounds. We'll air a discussion with our staff just like Antonio Brown. Or not.
Top 10 Day: Our staff works together to compile a top-10 list of a timely topic
Reader Day: One of our subscribers tells his or her story, whatever that might be
Cartoon Day: Ullman will offer exclusive sketches of Pittsburgh sports figures, scenes
Golden Memories Day: Ullman takes you back to great moments in our sports history
Wild Card Wednesday: This can be absolutely anything at all, and it'll run each Wednesday
I can't stress this enough: We aren't limited to what's up there. If it's fun, we'll do it. Or at least try it. And then the list can morph from there.
We're having a lot of fun with this little venture of ours, and we're looking forward to sharing some of that with you.
ICYMI: DUSTIN TO BASEBALL
In case you missed it, our Dustin Dopirak is moving full-time to cover the Pirates for us. I wrote up a full piece on it yesterday, so this is just to get it out there again.
DRAIN THE SERVER
We're on a new, singularly dedicated server, with a new host.
That's the good part. And it's about to get even better, because the new server — in addition to not secretly hosting 300 other sites, as our previous host had us doing — will allow us to address lingering nuisances such as repeated logins, app alerts being sporadic and a couple other items.
We're getting there!
Also, I can't repeat this enough: Be sure to download our latest versions of both the Apple and Android apps. You're a tap or click away right here:
SPONSORSHIP, ANYONE?
This new feature detailed above would be even more fun if it were sponsored. It's going to be a primary tenant on the site, to say the least, and it could have your company's name right there with it.
Email me directly, and let's find the right fit: DK@DKPittsburghSports.com
BACK TO BUSINESS
• Subscriptions are at 34,882, with a week's output of 97. Hey, it's that time of year.
• We're at 104 in the Lifetime Lunatic category, with two sold this week. If you're interested in upgrading to any level at any time, click or tap My Account in the menu, then click or tap Upgrade Subscription. You don't need to wait until your current subscription expires.
• We're at 20,897 total active app users, a gain of 497 in the past week alone. Which is wild. That figure is based on the number of devices we're able to reach right now with our app alerts, even if the alerts themselves are turned off. Of that total, 15,590 are Apple, 5,303 are Android.
• All our podcasts, including everything on DK Sports Radio, are available for easy download by subscribing to our pages on iTunes, Google Play or SoundCloud. Audio versions of Morning Java are there, too.
• We make mistakes. If you see one, email Typos@DKPittsburghSports.com.
• Anything you need is on the Support page. Any questions, email us: Help@DKPittsburghSports.com